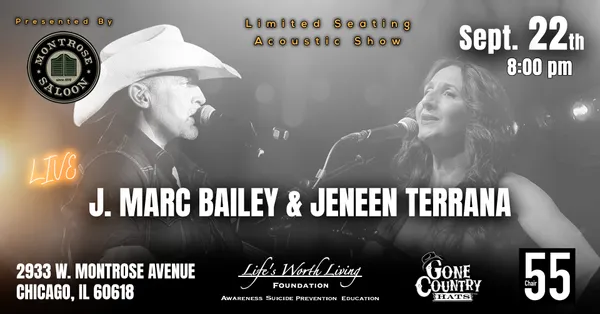 J. Marc Bailey & Jeneen Terrana "East Meets West" Tour
Acoustic at The Montrose Saloon in Chicago, IL
Thu, Sep 22 @ 8:00PM 
The Montrose Saloon, 2933 W. Montrose Avenue, Chicago, IL 60618 
Chair 55 and The Montrose Saloon Present J. Marc Bailey & Jeneen Terrana - Nashville Recording Artists "East Meets West" tour! 
-J. Marc Bailey, originally from Utah, now living in Nashville, embraces his western Cowboy roots with his love of Country Music. You can hear his latest single "I Can't Stop You" on major radio stations all over the country. 
Jeneen Terrana is originally from Buffalo, NY, now living in Nashville. She blends Pop and Country Music in a perfect swirl of Kacey Musgraves meets Trisha Yearwood. Her new single "Tequila" is set to release to US radio in a few weeks. 
The two are joining forces for an intimate acoustic evening they're calling "East meets West". Full of duets, beautiful melodies and intricate harmonies woven around Country Music.