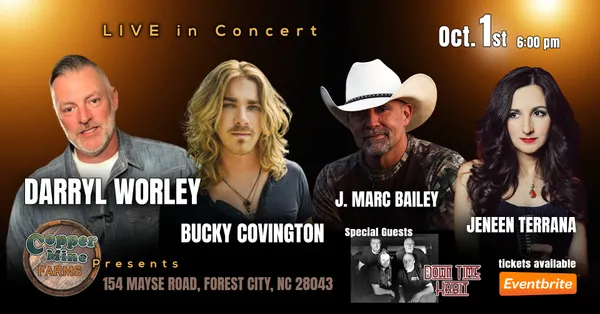 COPPERMINE FARMS LIVE w/ Darryl Worley, Bucky Covington, J. Marc Bailey & Jeneen Terrana
At The Coppermine Farms in Forest City, NC 
Sat, Oct 1 @ 5:00PM 
Coppermine Farms, 154 Mayse Rd., Forest City, NC 28043 
Join us for an evening of country music at the beautiful Coppermine Farms. The doors open at 5pm and the music starts at 6pm. We have several artists taking the stage including: 
Darryl Worley - An American country music singer and songwriter. Signed to DreamWorks Records Nashville in 1999, Worley released four albums for the label: Hard Rain Don't Last (2000), I Miss My Friend (2002), Have You Forgotten? (2003), and Darryl Worley in 2004. After the label closed in 2005, he moved to 903 Music, an independent label owned by Neal McCoy, releasing Here and Now in 2006, shortly before that label's closure. His most recent studio release is 2009's Sounds Like Life via Stroudavarious Records, owned by James Stroud. 
Worley's six albums have produced 18 singles on the Billboard Hot Country Songs charts, including three number ones: "I Miss My Friend", "Have You Forgotten?", and "Awful, Beautiful Life", from 2002, 2003 and 2004–2005, respectively. "Have You Forgotten?" spent seven weeks at number one. Nine other singles have reached the top 40. 
Bucky Covington -Bucky's self-titled debut CD opened at #1 on Billboard's Top Country Albums chart with the biggest first week sales for any debut country artist that year. He went on to become the bestselling debut artist of 2007 and delivered three consecutive Top 10 singles to country radio ("Different World", "I'll Walk", and "Good To Be Us"), and a total of six charted singles. 
In addition to competing on the fifth season of American Idol, Bucky's national television appearances have included Good Morning America, Live with Regis and Kelly!, Jimmy Kimmel Live!, The Tonight Show and Fox & Friends. Bucky's recent singles include last summer's feel-good tune "Buzzin", and "Drinking Side of Country" (duet with Shooter Jennins), which reached over 2 million views on YouTube in only 2 short days following its premiere and features cameos by country stars Kellie Pickler, Shooter Jennings, and other celebrity friends. 
Bucky recently released his first independent project in the form of a 6 song EP titled, "Happy Man", which has produced 2 singles charting on Music Row charts so far. Covington co-produced the project alongside his long time producer, Grammy nominated Dale Oliver. 
https://www.buckycovington.com/ 
Marc Bailey - Comparable to the late Chris LeDoux, with hints of George Strait, Blake Shelton, and Chris Young. 
Marc's new single, "I Can't Stop You", is in heavy rotation on radio stations across the country and has already broken on to the Music Row Charts. 
Over the last twenty years, and in addition to his own headlining shows has opened for and worked with Blake Shelton, Little Texas, Toby Keith, Miranda Lambert, Joe Diffie, Colt Ford, Restless Heart, Joe Nichols and Diamond Rio to name a few. 
Jeneen Terrana - Jeneen recorded and released her first album "Just Me' in 2002. She has toured nationally and in Europe and has had songs featured on the radio in the US, UK, Ireland and the Netherlands, including an interview and live performance on BBC radio. Her music was also heard across the UK in stores like Poundland and JJB Sports. The follow up albums "My Creation", "See the Light" and "Fallin" won her some critical acclaim with indie bloggers and review sites and the song Fast Lane was featured in the film "The Nameless". Jeneen also made an appearance on the Food Network show "Homemade in America" after a successful crowdfunding campaign that used cakes and recipes as rewards. 
She recently released the single "Tequila" and "Bring the Love Back", a duet with J. Marc Bailey. 
Down Time Habit - Down Time Habit is a band that hails from the southwest foothills of North Carolina. Their love of playing music shows when they are on stage. Their name comes from the hours spent playing- they like to spend their "down time" doing their favorite "habit", playing music. Band members have many years between them of time spent entertaining crowds. The music played varies from southern rock to classic rock to blues and originals. Venues in North and South Carolina have been entertained by Down Time Habit's love for good time music. Good times are in store when Down Time Habit takes the stage. 
https://www.facebook.com/downtimehabit/